I love Fun Factory, I'll be honest. Ever since I got into the toy world, I've loved Fun Factory. This toy, the Bi Stronic Fusion was actually the first toy I ever bought for my self (with my employee discount at the adult store I worked at at the time.)
Now, I would not recommend doing what I did. This is not a beginner toy. It can be very intimidating. You really gotta know if you enjoy girth before getting this toy because it is a thick one.
But once you have dabbled a bit, I think this is a fun addition to the toy drawer.
While the pulsation is definitely an interesting sensation, it's not my favourite all the time. I kinda have to be in the mood for it. It's not a true thrust, it's more of a jiggle.
And as you might know, I'm a fan of anything that lets me have as much control as possible. That means separate buttons for separate functions/motors. There is one button for the pulsation, and one for the clitoral vibe.
Unfortunately, the clit vibe is this toys downfall. It doesnt reach my clit while the pulsation is going, and if I hold it down, the pulsation is hindered.
I would much rather have a pulsator by itself and use it in combination with a separate clit vibe. So I definitely hope to test out some of Fun Factory's other pulsators soon.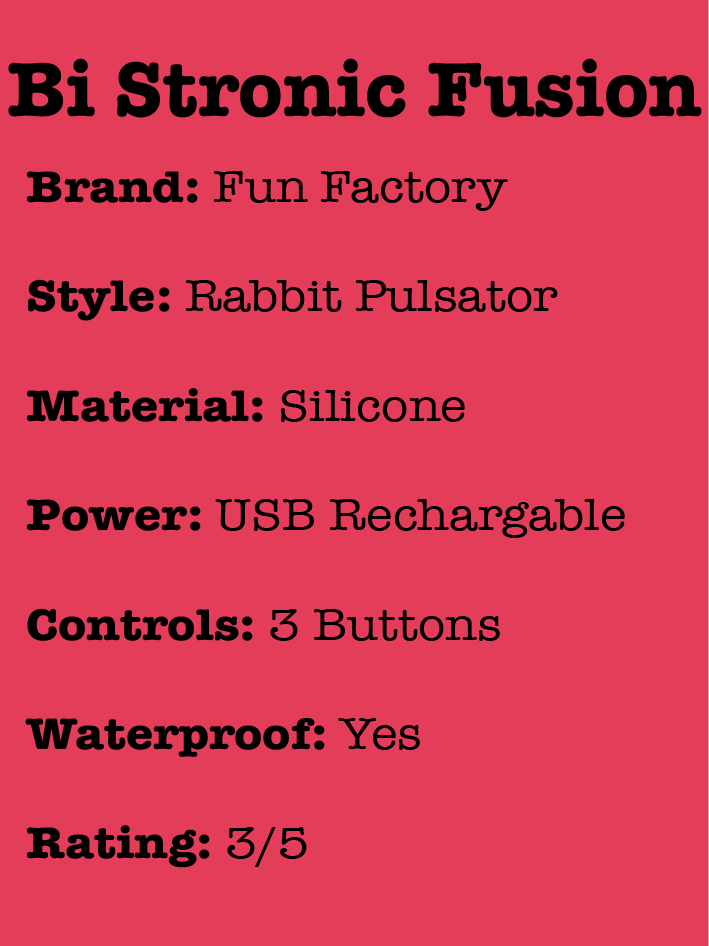 Click here to buy the Bi Stronic Fusion!