This silicone, dual motor, rechargeable, waterproof toy really is one of a kind. Jimmy Jane really did step out of the box when they came up with this simple but unique design. It has one large head and one small head, both equipped with motors, and controlled by one button in the middle.
The idea behind this toy is versatility. Both ends can be used externally or the smaller end can be inserted. The silicone is very soft and I was in love the second I unboxed it. I had so many high hopes for this toy.
However, for me, it fell a little short. Don't get me wrong, I'm sure it's an amazing toy for someone else! But here are the reasons the Ascend 4 is not going to be making many appearances during my stress relief sessions:
The large head was too large. I like a pin point vibration. However, the smaller head is a bit too powerful even on it's lowest setting. And the shape was just a little awkward for insertion. Also, the control button is inaccessible during insertion. Now, I know lots of girls prefer really strong vibrations, and others really enjoy the large heads that cover the entire vulva. And I'm sure some bodies will accommodate inserting this toy very comfortably. But none of those girls are me… sorry Jimmy!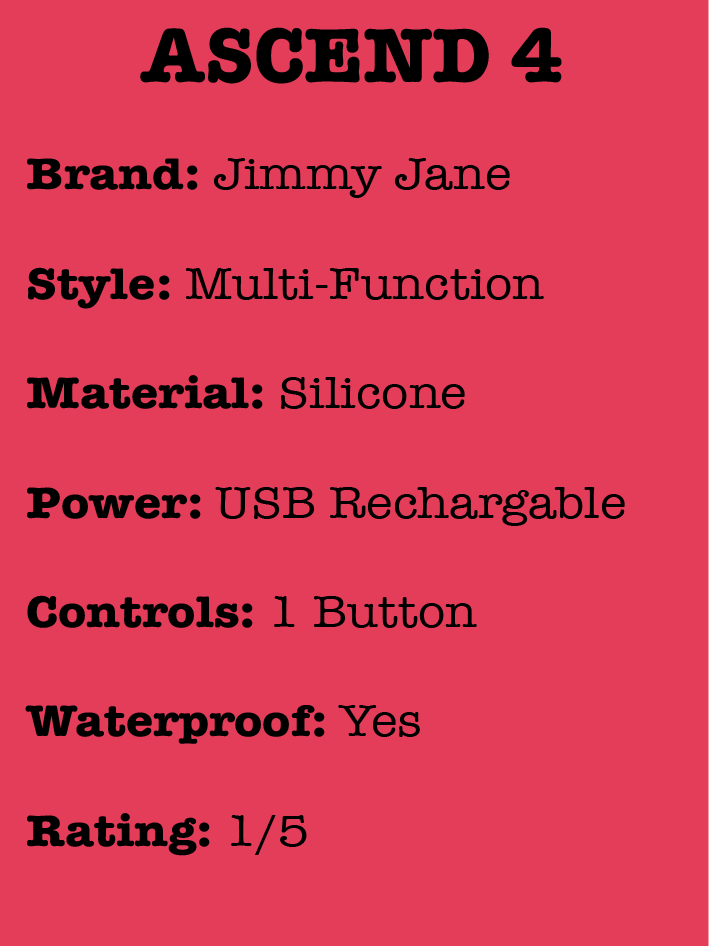 https://www.jimmyjane.com/ascend-4