This little clitoral vibe is made of ABS plastic, rechargeable, and is splash-proof.
I think all toys should be completely waterproof. Because well, fluids. But also just for cleaning purposes.
All in all, nothing special. It wasn't rumbly, but it wasn't buzzy either. I guess the plastic muffled the vibrations weird. Don't get me wrong, it got me there, but it wasn't exactly an enjoyable ride. The Nea just left a lot to be desired.
The bean shape is more ergonomic in theory than in execution. The toy naturally wants to curve with your body, but when you do this, you can't reach the buttons. And I don't know about you, but I don't usually pick one speed and stick with it the whole time. Also, when you can reach the buttons, they feel like they are backwards, But maybe that's just me.
So honestly, just skip this one. There are many better clit vibes out there.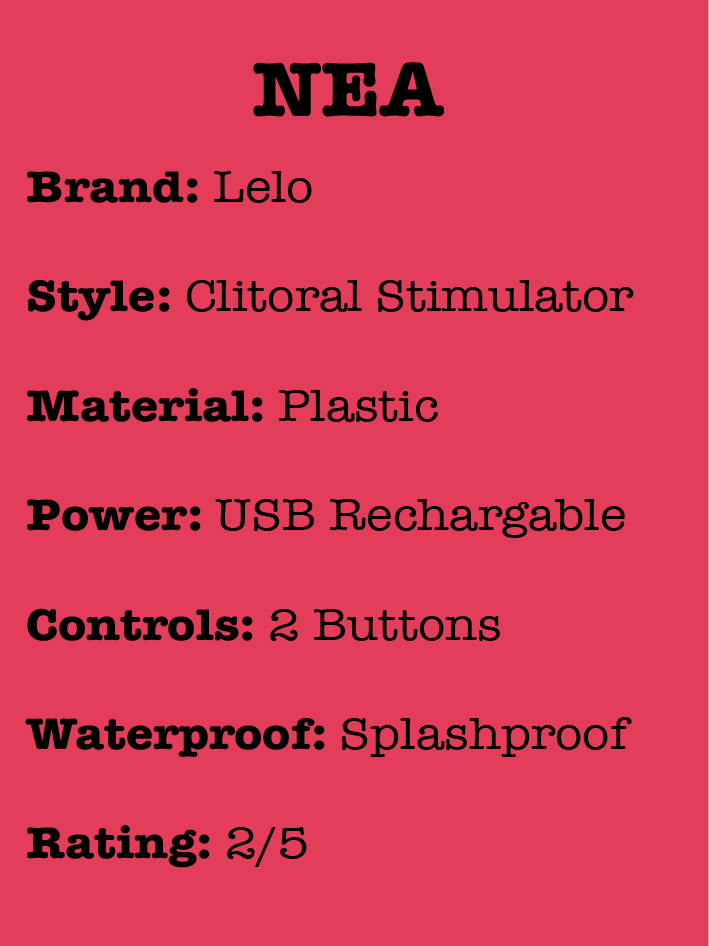 This Lelo Nea came in a LoveDrop Subscription box.
Disclaimer: I won this box in a give-away, but because it's a UK company, I paid the shipping to get it to Canada.
I'm all for companies and products that are intended to bring some interest to your sex life. If that is what you are looking for. And I love the idea of subscription boxes. (Seriously if you have a box I would love to review it. Hit me up. I would love to find the ultimate sexy subscription box.)
Unfortunately, I don't think this one is it. At least not yet anyways. LoveDrop is a new company, and this was their first box ever released. So I have faith that the quality of their boxes might improve.
Along with the Lelo Nea, this box also included:
A bar of chocolate
Standard milk chocolate bar, nothing too exciting, and I really don't see how it's supposed to benefit my sex life. I've never found chocolate to be an aphrodisiac. And this is coming from someone that experiences serious food euphoria.
Lelo Lube Sample Packs x3...Well two, and there was a third inside the Nea box.
I've used Lelo lube before, it's okay but definitely not my favourite. But single use sample packs are useful to keep around. I always have a few in my purse, along with some condoms.
Lelo Hex Condoms x2
Honestly I don't trust the hex condoms and I don't really want to use them. I may try them out and give them their own blog post, or a master post about a bunch of condoms. But I'll deal with that another time.
A Candle
I thought it was one of those massage oil candles, but no, it's a regular candle. I know lots of people do find romance in candle light, but I'm not one of those people.
Prompt Cards x8
Sexy tasks to complete with/for your partner, including a lapdance, cooking naked, and orgasm denial, among others. A cute little add on, but could use a little more imagination. Most of these suggestions feel like they were pulled from Cosmo. Tweet me if you need some date night ideas, mine are free and don't kill trees.
A Thank You Card and a Welcome Fold Out
The fold out of course provides descriptions of the included products. It also has challenges, a date night idea, a position of the month, and a fun fact. Again, the challenges aren't very imaginative. The positon however, is. But you have to be a circus performer to pull it off.
As one final critique, right before you open the box you're greeted with "We promise to try whatever arrives" which is cute and I get that it's branding, but my consent spidey senses tingled a bit. This was followed by a cringy Monroe quote; "If you can make a woman laugh you can make her do anything"… I don't like anything that sounds like coercion.
I hope that as a new company, they receive feedback and work on improving their boxes. I would like to thank them however for hosting the give-away that allowed me to test them out.
Click here to buy the Lelo Nea!