This is a really good beginner vibe, but also good if you're an experienced toy user. If you like to have a good range on intensity, from a dull buzz to an intense vibration. The pulsations setting are fun too, but gotta say, not my go to in a clitoral toy.
The medical grade silicone is very soft, but the toy itself is hard which I find nice in this kind of vibe.
The Siri 2 has four buttons that make it very easy to use. I'm a fan of any toy that controls function and intensity separately.
The one thing that sets this toy aside from others like it is that it has a sound responsive function.
Once activated, the vibe will buzz to the beat of a song that is playing or even to the pattern of speech or other sounds that you or your lover might be making.
This is a nice novelty, and is quite entertaining, but not entirely practical as it is a little finicky. It might be better for someone who doesn't just like a continuous vibration like myself.
This toy is also waterproof making it easy to clean and fun in the bath or shower, and if you ask me, all sex toys should be water proof.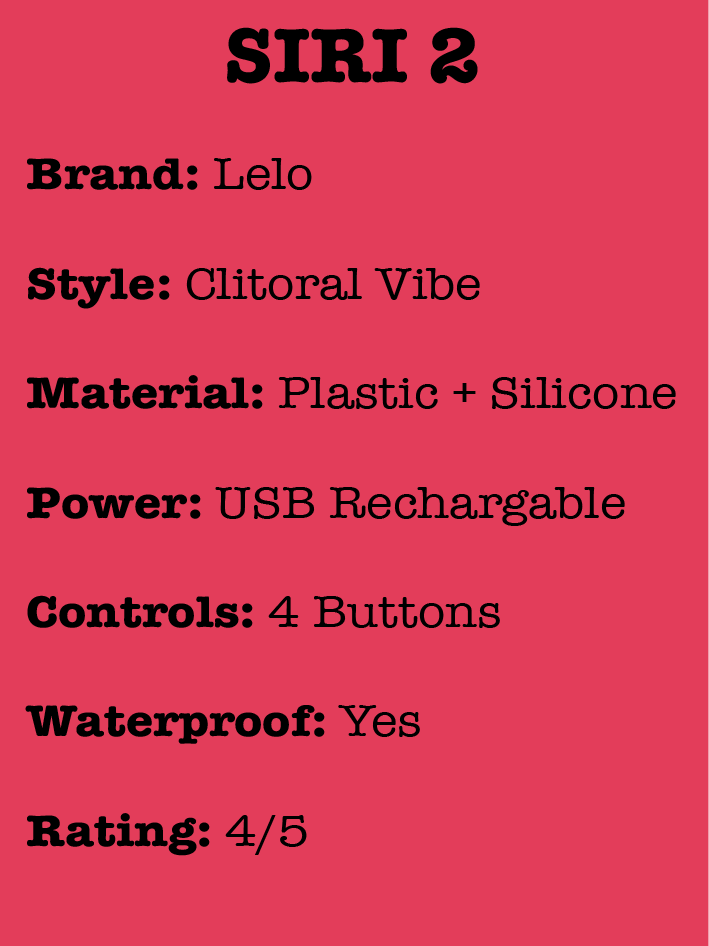 Click here to buy the Lelo Siri 2!