When I pulled this toy out of the box I honestly didn't know what to think but I was impressed with the speeds it reaches, and general power. I kinda wanna break it open to see how it works.
Having never tried a full sized fucking machine, due to their high price tag, I had come to peace with the fact I probably never would.
Having nothing to compare it to, holding this purple thrusting thing in my hand, I had a pretty good idea how it might feel.
But it was better than I expected.
Jackie's soft silicone and texturing feels great, and it's basically the perfect length and girth. Especially in combination with how much it extends when it thrusts.
As someone that can orgasm through penetration with my partner, when I do with a toy, it's almost never from thrusting. So even though I very much enjoyed using this toy, I needed to add a little something just to push me over the edge.
Fine wine is to cheese, as the Velvet Thruster is to a rumbly clit vibe.
In that the Wine and Truster are already great, but pairing it just makes it even better.
I chose the Mimi Soft, which conveniently matched in lilac purple hue. And oh man oh man was that good. (And now I want Merlot and Cheddar.)
The Velvet Thruster is a little heavy and it's definitely not quiet, but I think those are a fair trade off for not having to do the thrusting yourself.
My only real complaint is the button placement. Being on the bottom makes them a little awkward to reach when the toy is in use, and you have to guess/memorize where the up and down buttons are.
All in all, I think this toy is a great introduction to fucking machines, and fucking machine style toys. Especially if you are on a budget or if you're not sure it's something you would like so you don't want to gamble hundreds to thousands of dollars.
Alternatively, I can see this being a great travel sized option for those that already own full sized fucking machines.
* I want to thank Velvet Thruster for sending me this toy in exchange for an unbiased review *
P.S. I think I will be making a stand for my Velvet Thruster so that I can use it hands free.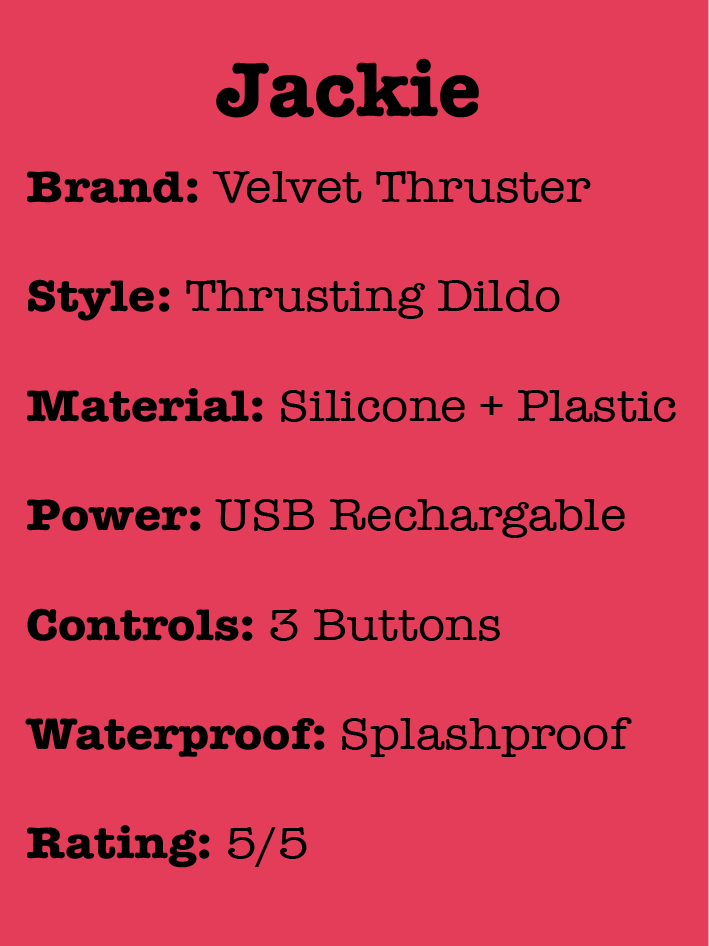 Click here to buy the VELVET THRUSTER JACKIE for yourself, and check out the other styles.